Product Description
Rainy Day Foods dehydrated blueberries taste great right out of the can. These berries can be used in any recipe calling for blueberries. They are whole sized and  like fresh blueberries, they pack powerful antioxidants.  Dehydrated blueberries can be used in breakfast foods, cookies, pies, and can be used to make a tangy blueberry salsa. The possibilities are endless with what can be done with this small berry that packs a powerful flavor. Use them in your morning smoothies to give you a kick start in the morning. Throw them in plain cereals to add a little color and some flavor. These are great to have in your long term storage. They add color and flavor to anything you put them in.
Ingredients: Blueberries.
Packaged in a plant that handles milk, wheat, eggs, soy, and tree nut products.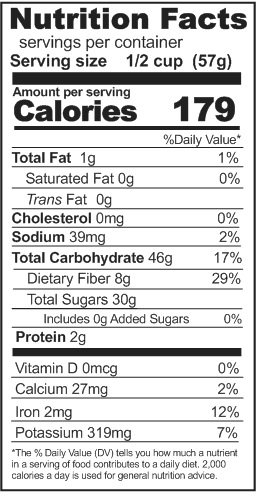 #10 can:   I068-40 oz. (1134g) 20 servings
Description:
Dehydrated blueberries are a great food to have on hand. They can be eaten straight out of the can or they can be rehydrated and used in any recipe calling for blueberries. They pack a powerful flavor as well as a big dose of nutrients. They bring color and flavor to any recipe. Use them to make syrups for pancakes or waffles in the morning. Use them in salads, fruit salads, or throw them in granola to add a little something to it.