From the beginning, NuManna wanted better. We wanted to push the standards of "preparedness" foods like never before. We thought just because you are having camping/prepper/emergency food doesn't mean it should taste like dog food. After earning a reputation for better, we wanted the BEST. Why couldn't we do organic? What about heavy metals and pesticides? After a year of tearing down brick walls, ignoring experts telling us we were crazy and breaking numerous glass ceilings, we did it.
In late 2016 we changed the industry forever. We created the Organic Family Pack. Building upon our already appreciated recipes, like Pasta Primavera and Classic Chili, we made them Certified USDA Organic. It was, and still is, groundbreaking. There have been questions about what Certified USDA Organic means. We wanted to explain.
Chances are, if you go down the aisles of your grocery store each week you will see more and more products with an ORGANIC label. The demand by consumers for cleaner, healthier food has grown by leaps and bounds over the past 6 years.
There are many organizations with varying standards for ORGANIC certification. When we created the Organic Family Pack, we wanted a certification of the highest standard.
CCOF stands for California Co-Operative of Farmers (ccof.org). It was one of the first organizations to push for a cleaner, organic food supply. In the early 70's they began a mission to make organic food available across the country. The CCOF website maintains that CCOF testing and certification as "second to none." We agree.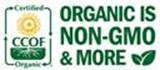 CCOF has created a first-rate process to monitor, test and track food from seed, to soil, to packaging and to your family's table. To be certified by CCOF a high standard must be met. At every step of the way CCOF demands there is Organic oversight. Every year, sometimes bi-yearly, new inspections and certifications occur. Every bit of ingredients must be logged and traced all the way back to the ground. It is a comprehensive and extremely detailed and even redundant certification to acquire and maintain. We are so incredibly pleased NuManna Organic Family Packs are certified by such an organization as CCOF. They are the best.
The link to their website and procedures is below:
https://www.ccof.org/page/organic-standards-ccof-organic-certification-program-manuals
NuManna has always looked at things a little differently. We want excellence. The Organic Family Pack represents the best of our vision for clean, healthy, great tasting storable food. It is the top in the industry. We completely stand behind it. Our Organic Family packs are proven to be Organic, non-GMO, tested for synthetic pesticides and screened for heavy metals. We have gone further and reached higher than many thought possible. Thank you for choosing the NuManna Organic Family Pack, the gold standard of preparedness food.
Showing all 30 results