Product Description
Rainy Day Foods Dehydrated Apricots
Overview
Apricot dices are the tiny pitted fruit that can be used in a multiple of ways.  These fruit can be eaten plain strait out of the can as an wholesome snack, or they can be incorporated into your meals and baked goods.  Apricots can be used to make your own granola mix, muffins, oatmeal, cookies, cakes, and salsas.  Apricots can be used to slow cook with favorite meat to add sweetness and moisture.  These are great to have on hand to spice up your menu. These are great to have in your food storage.
Ingredients: Apricots, sulfur dioxide (added for color retention and as a preservative).
Packaged in a plant that handles milk, wheat, eggs, soy, and tree nut products.
#10 can:  I058– 40oz (1134g) 20 servings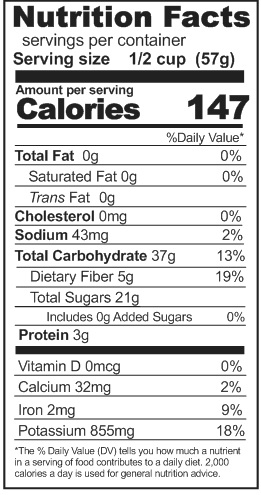 Apricot dices are a wonderful product to include in your long term food storage. They can be eaten plain for a great on the go snack. They can be used in your favorite recipes. These dices can be reconstituted to throw in muffins, cakes, pancakes, and hot cereals. A wonderful addition to your food storage.